There are tons of beautiful orchards and farms across Bucks County, but the four we've listed below are some of the best in the region. When you're in the mood to go apple picking or foraging for berries, visit one of these orchards for an experience you'll never forget.
Here are the four best orchards in the Bucks County area.
Linvilla Orchards
137 West Knowlton Road, Media, PA 19063
(610) 876-7116
A trip to Linvilla Orchards is a best-loved tradition for generations of families in Bucks County. No matter the season, Linvilla Orchards offers dozens of attractions guaranteed to create memories that last a lifetime.
Linvilla's 300 acres are dedicated to family and tradition. Whether you pick-your-own apples or cut-your-own Christmas trees, Linvilla's beautiful scenery and sprawling fields are sure to take your breath away.
To find out more, like Linvilla Orchards on Facebook.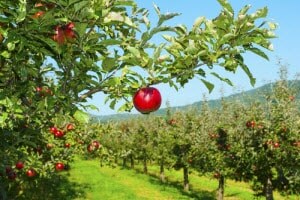 Manoff Market Gardens
3157 Comfort Road, New Hope, PA 18938
(215) 297-8220
Manoff Market Gardens is one of the best spots in Bucks County for fresh, seasonal fruits and vegetables. Its farmers market offers an incredible selection of local produce like pumpkins, nectarines, blackberries, strawberries and more, in addition to treats like applesauce, jam and butter.
Manoff Market Gardens also grows pick-your-own crops depending on the season, including strawberries and pumpkins. No matter what you're shopping for, you can expect quality and premium freshness when you purchase produce from Manoff Market Gardens.
Like Manoff Market Gardens on Facebook to find out more.
Solebury Orchards
3325 Creamery Road, New Hope, PA 18938
(215) 297-8079
Nestled in the heart of Bucks County, Solebury Orchards is known for its fresh fruit and scenic countryside. Visitors can shop at the market or pick-their-own produce, but either way you're in for a treat when you visit Solebury Orchards.
The farm opened in 1985 and spans approximately 80 acres. As you explore its rolling fields, you'll find rows of apple trees and blueberry bushes just begging to be picked. Solebury Orchards grows excellent produce, so make sure you visit the next time you're craving fresh fruit. 
To find out more about Solebury Orchards, like them on Facebook.
Tabora Farms & Orchard
1104 Upper Stump Road, Chalfont, PA 18914
(215) 249-3016
When you visit Tabora Farms & Orchard, you'll find a gourmet bakery, gift shop, country store and deli whose items are made entirely from scratch. The farm has been operating since the mid-1700s, and their fresh produce, specialty foods and gifts are some of the finest in Bucks County.
Tabora Farms & Orchard creates more than 160 fresh-made items every day. Everything is free of preservatives, additives and trans fats, ensuring premium quality and freshness in every bite. With its rich history and friendly staff, Tabora Farms & Orchard is a staple in the Bucks County community.
Like Tabora Farm & Orchard on Facebook to learn more.
Thanks for reading this post! We hope you have a blast visiting these orchards near Bucks County! For more information on Bucks County's local businesses, check out our blog.