While brake repair is certainly a major issue, it's an easy fix if you can detect the early warning signs, especially for drivers in Doylestown, Philadelphia, and Warminster. At Fred Beans Ford of Doylestown, we can help you get your car running in its safest condition with our reliable brake repair services.
To give you a clearer idea of what to look for when it comes to necessary brake replacement, we've come up with the most common early signs and symptoms that you might experience and when to bring your vehicle to our service center for inspection.
Screeching, Grinding, or Growling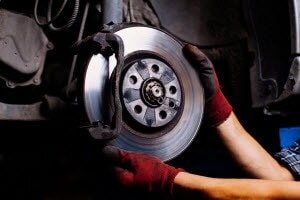 A sign of necessary brake repair is if you hear a high-pitched, screeching sound. This is one of the more common warning signs and comes from a small part called an indicator, which rubs against the rotor when brake pads have worn down.
Or you might hear a metallic, loud grinding sound, which can mean that your brake pads have worn down completely. The part that holds the brake pad, called the caliper, is rubbing against the rotor, causing the grinding or growling noise.
Essentially, once the brake pad has worn like this, it can cause damage to the rotor, making your simple brake replacement an even bigger issue.
Brake Fading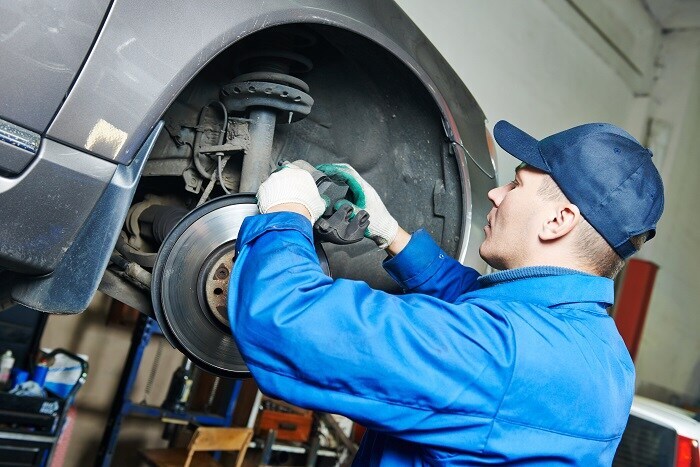 Many of us have experienced pressing on the brake and feeling as if we're pressing it all the way to the floor. This issue is called fading and is yet another common sign that your brakes need to be replaced. It can also mean that there's a leak in the braking system.
If you're concerned about a leak, you can easily check by looking for fluid where your vehicle was parked. Any leak is a serious issue, and your vehicle should be taken to your auto service center immediately.
Pulling
If you notice that your vehicle seems to lean or pull toward one side when you apply the brakes, this is simply known as pulling. This can cause your tires to slow at different speeds, since it implies that your brake pads have worn out unevenly and cause unsafe driving conditions.
Vibrating or Shaking
Sometimes, your rotors can become warped, which affects the braking surface, causing a vibration in the brake pedal when you slow down. This is more apparent when driving at higher speeds. But if you notice this sensation at lower speeds, it could mean a more serious problem.
Experiencing any or all of these signs can mean that at least your brakes need an inspection, if not a replacement. If you're in the areas of Doylestown, Philadelphia, and Warminster, contact us at Fred Beans Ford of Doylestown at any time.
And of course, we'll be here to discuss any other maintenance issues you might come across, now or in the future! We're happy to help our customers keep their vehicles safely on the road for years to come.