Whether you're celebrating a birthday, wedding engagement, or just the fact that it's Saturday, you'll want to find a super fun bar that also serves great drinks and bar eats. Lucky for those in Doylestown, you have three great options.
Below, you'll find more information about what Finney's Pub, Pag's Pub, and Puck have in store for your next night out!
Finney's Pub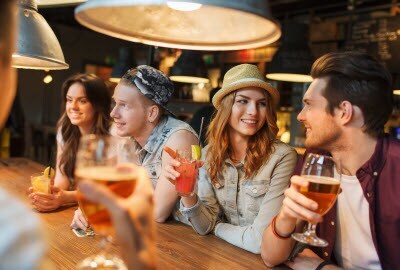 Finney's Pub has been serving up a wide beer selection, top-notch customer services, and different fun events every night of the week. Come down for a cold craft beer and some karaoke on Thursday nights or a night of dancing with DJ Travis from Crème de le Sound on Saturdays.
While Finney's Pub is a pub nonetheless, their real passion lies in their award-winning wings. With more than 35 flavors to choose from, ranging from dry rub Molasses Bacon to fiery Garlic hot, you'll be able to find something for everyone in your party.
Pag's Pub
Pag's Pub takes everything great about night life and gives it an extra kick. You'll find everything you want in a pub like an array of quality beers and tasty food and more including whiskey flights of 4 rotating whiskeys and seasonal Saturday Breakfast.
Bring your group by on a Saturday morning starting in mid-April for Belgian Waffles, a Breakfast Burger, fresh-made Omelets, and all the Bloody Mary's and Mimosas you can drink. Even if you aren't a morning person, you can expect top-notch eats from Pag's like a handmade-to-order brick oven pizza.
Puck
Puck knows that there's only one thing that can make a night out on the town even better, and that's live music. At Puck, people come for the nightly live music and stay for their drinks and tasty food menu.
Grab a table close to the stage and order up a few things for the table to share like Bacon Wrapped Shrimp or Fried Pickles. Don't forget to add something sweet like a S'mores Flatbread. Wash it all down with any of their top-notch beers or a glass of wine.