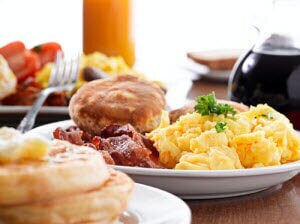 We can't think of a better way to start your morning than with fresh French toast, crispy bacon or a hot cup of coffee from one of Bucks County's incredible breakfast restaurants. However, few can contend with the charm, service and fresh flavors found at the following four spots. 
Each restaurant adds a slight twist to classic breakfast dishes to leave you salivating and satisfied. If you're looking for a delicious way to start your day, try one of these Bucks County breakfast restaurants.
Bullard's American Café
547 York Road, Warminster, PA, 18974
(215) 441-9670
Bullard's American Café is heralded for its welcoming atmosphere, generous portions and classic breakfast specialties. Whether you indulge in short stack blueberry pancakes, farm fresh three-egg omelets or eggs benedict, Bullard's offers something delicious to satisfy any size appetite.
Our personal favorite is The All American breakfast, complete with two eggs, toast, home fries, a choice of meat and either two pancakes, fresh toast or a single waffle. Bullard's gets packed during breakfast time, so make sure you get there early to enjoy a hearty, filling meal that leaves you wanting more.
Like Bullard's American Café on Facebook to find out more.
Chive Café & Catering
5788 Lower York Road, Lahaska, PA, 18931
(215) 794-3737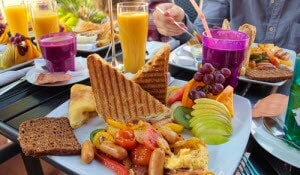 Breakfast favorites like omelets, pancakes and sandwiches are crafted with a creative flourish at Chive Café & Catering. Its quaint, comfortable dining room possesses an old world charm, and each dish is made from scratch to ensure each bite of toast, bacon and eggs is better than the last.
Chive Café even won the title "Best Kept Secret in Bucks County" in Bucks Happening magazine. When you enter their dining room, you'll understand why. But with customers raving about their gourmet breakfast and quaint, casual setting, it's fair to say the secret is out.
To find out more about Chive Café & Catering, like their Facebook page.
Down to Earth Café
1141 North 5th Street, Perkasie, PA, 18944
(215) 258-2233
With ingredients sourced from local Bucks County farmers, Down to Earth Café crafts fresh, delicious breakfasts that nourish the body and boost the local economy. Down to Earth Café is a great breakfast spot if you're seeking healthy, nutritious options and their bright, comfortable dining room makes each patron feel at home.
With a mission to serve delicious, eco-conscious fare, Down to Earth Café creates incredible dishes with creative pairings. Their smoothies, sides and breakfast dishes keep customers coming back for more, especially with their reasonable prices and generous portions.
To find out more, like Down to Earth Café on Facebook.
The Doylestown Inn
18 West State Street, Doylestown, PA, 18901
(215) 345-6610
The Doylestown Inn boasts an undeniable old world charm and a delicious breakfast menu. Nestled in the heart of historic Doylestown, the Inn offers incredible buttermilk pancakes, huevos rancheros and stuffed crunch toast to help you start your day on the right foot.
Service is always impeccable at The Doylestown Inn, whose comfortable dining room and quaint atmosphere put patrons at ease. Their food is perfect for any occasion, so make a reservation for an incredible, unforgettable breakfast.
To find out more, like The Doylestown Inn on Facebook.
Thanks for reading this post! We hope you have an awesome breakfast at one of these restaurants in Bucks County.