Whether you're on your way home from work on a Friday night, and you're looking for something tasty, or you simply need something quick to eat while you're on the go, pizza is always a worthy option. But the trouble is, given the amount of shops and parlors in the area, it's hard to find the best pizza place near you in Doylestown. However, we did some research and shaved down the list to something a little more manageable. This is our list of the best pizza places near Doylestown.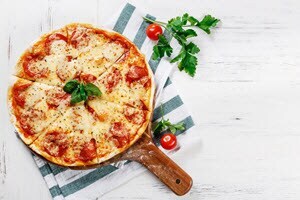 Artistic Pizzeria
12 West State Street, Doylestown, PA  |  Facebook
Artistic Pizzeria, right off of State Street, is the perfect place for your pizza on Friday! On top of numerous appetizers, sandwiches, and pasta, they have an extensive selection of pizza for you to choose from. Start from scratch and pick your favorite toppings, or consider a gourmet pizza like the Lasagna Pizza, French Fry Pizza, or even the Cheesesteak Pizza.
They even cater, so if you're planning your very own pizza party with your family or friends, you can easily call Artistic Pizzeria to supply the pies. Grab a bite and hit the town's hot spots to make your Friday memorable!
Bacco Bistro
478 North Main Street, Doylestown, PA  | Facebook
Grab a bottle and head out to Bacco Bistro, located on North Main Street, so you can enjoy your favorite wine flavors while grabbing a slice of authentic pizza, or some classy Italian cuisine. Before settling on your preferred pie, you may want to sample some of the appetizers, like the Stuffed "Long Hot's," Nonna's Meatballs, or even the Calamari Fritti.
When it's time for pizza, you have quite a few options to choose from. You could go basic with a plain or a pepperoni, or you could expand your palette with options like the Pesto Parmigiana, the Broccoli Saute, or even the Quattro Stagione, which includes artichoke hearts, roasted red peppers, Kalamata olives, mushrooms, garlic, plum tomatoes, and of course, mozzarella!
Spuntino Wood Fired Pizzeria
22 South Main Street, Doylestown, PA  |  Facebook
There are many different ways that you can cook a pizza; however, the best ways involve either brick or wood, so why not swing by Spuntino Wood Fired Pizzeria for the latter? Using fresh ingredients, the staff at Spuntino certainly takes the art of pizza making seriously. They even have a variety of fun and diverse flavors, available as either a red or white pizza.
You can start off right with a salad to help get your taste buds rolling before you partake in some delicious wood-fired pizza, like a Regina with mozzarella di bufala, pecorino romano, and basil, or a Crudo, which is a white pie with prosciutto di parma, fresh mozzarella, arugula, and olive oil. Do pizza the right way.
Have you heard of these places? Have you tried them? If not, see which one ends up being your favorite pizza place near you in Doylestown!