When driving your Ford Explorer, the last thing you want to see is an ominous light illuminating from the dash. Do you really have a problem already or did you accidentally turn something on and not know what? With this convenient light guide, you can understand what all the dashboard lights on your new Explorer mean.
Learn the different dashboard lights on the Ford Explorer and how Fred Beans Ford Doylestown can take care of any necessary maintenance for you.
2018 Ford Explorer Dashboard Light Guide
Feature Lights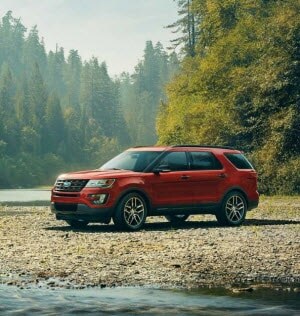 The Explorer comes equipped with many exciting features, and they're sometimes indicated with dashboard lights. These lights don't mean there's a problem - they just mean you've activated certain features.
Adaptive Cruise Control: This light looks like a car next to a speedometer and indicates that your adaptive cruise control has been activated. If the light turns green, the adaptive cruise control is currently engaged.
Cruise Control: It looks similar to the previous light except there's no car next to the speedometer. It'll illuminate when your cruise control is on.
Front Fog Lamps: This light appears as three slanted parallel lines stemming from a headlight icon. The three lines are intersected by a vertical squiggly line. If this light is on, your fog lamps are activated.
Lane Keeping Aid: This light looks like a car in between two vertical dotted lines and shows that your lane keeping driver assistance feature is activated.
Parking Lamps: If you see an icon of two headlights facing away from each other, your parking lamps are on.
Stability Control: Appearing as a car with curved treadmarks behind it, this light means that the stability control system is active.
Problem Lights
Dashboard lights don't always bring good news. Some lights indicate problems with your Explorer and some are patently more serious than others. Make sure you know which is which, so you know if you need to get your vehicle serviced.
Anti-Lock Braking System: If you see the letters ABS inside a circle, your anti-lock braking system is malfunctioning.
Battery: This light unsurprisingly looks like a battery and means that your battery is malfunctioning. Make sure you shut off all unnecessary electrical equipment and get your Explorer serviced.
Brake System: When you see an exclamation point inside a circle next to a P inside a circle, your brakes may be failing. Stop the car as safely as you can and call for roadside assistance.
Electric Park Brake: This light looks like a lightning bolt with an arrow on the bottom inside a circle. You'll see this when your electric parking brake is malfunctioning.
Engine Coolant Temperature: If you see a light that looks like a thermometer submerged in liquid, your engine temperature is too high. Turn the Explorer off to let the engine cool.
Engine Oil: Looking like an oil can, this light means your oil levels aren't standard.
Low Tire Pressure Warning: This light looks like a horseshoe or the bottom of a flat tire with an exclamation point inside. It means your tire pressure is low.
Powertrain Fault: This light appears as a wrench, and means there is a problem with your power train and potentially your AWD system.
Service Engine Soon: This dreaded check engine light looks like an asymmetrical block and means your engine could've had a misfire or your emissions are problematic.
Servicing Your Ford Explorer
When your dashboard lights indicate a problem that needs to be fixed, the service and parts department at Fred Beans Ford of Doylestown can get your Explorer back on the road in no time. We've been serving drivers in Doylestown, Philadelphia and Warminster for years, so our expert service team has proven their worth.
No matter what the problem is, you can count on Fred Beans Ford of Doylestown to keep your vehicle in the best shape possible for years.