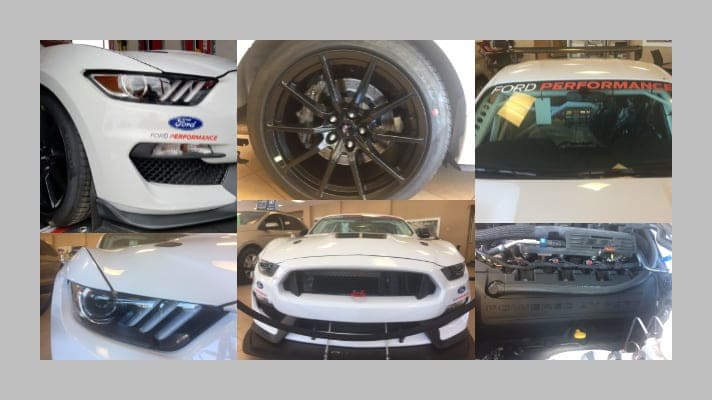 Buy For:
$129,995!
As the successor of the three-time Pirelli World Challenge Manufacturer's champion Boss 302S, the Ford Mustang FP350S has some big shoes to fill. Though, after taking a peek at the information we've gathered for this review, we at Fred Beans Ford of Doylestown believe this impressive racecar will go above and beyond expectations.
Read ahead to learn more about the Ford Mustang FP350S's remarkable powertrain, chassis, exterior, and interior features!
Power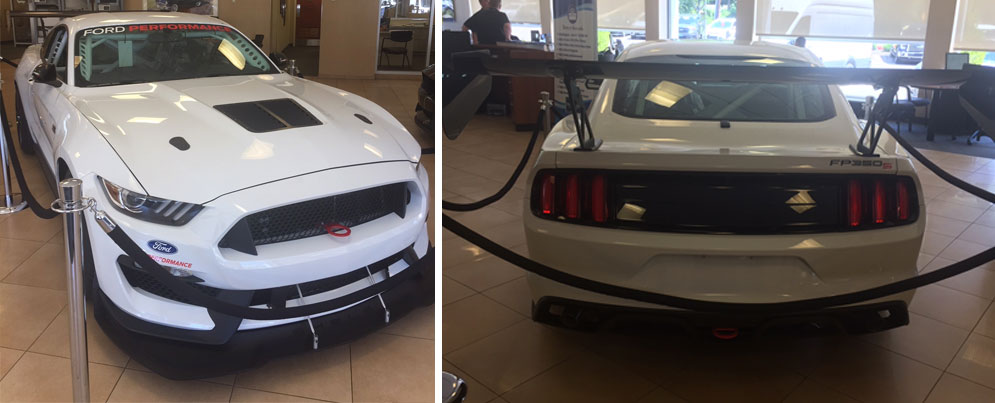 The Ford Mustang FP350S is powered by a high-performance 5.2L V8 engine. This engine, which shares most of its characteristics with the Mustang GT350's 5.2L V8 engine, sports an 8,250 RPM Redline, allowing it to exceed an incredible 520 horsepower.
Paired with this engine is a TREMEC 3160 Transmission. This transmission is equipped with an integral pump and Ford-performance shifter to ensure that each shift is smooth and precise for hitting high speeds on the racetrack with ease.
To keep everything cool and working correctly, the FP350S's drivetrain also comes paired with a 12-quart deep sump racing oil pan and oil cooler; focus on where you are on the track, rather than whether or not your engine is overheating.
Chassis & Exterior
On top of its impressive powertrain, the Ford Mustang FP350S is built with a Seam Welded and Weight Reduced Unibody. This light body sheds any unneeded weight to maximize how aerodynamic the vehicle is, in order to reach top speeds.
Unlike many of its street-legal brother Mustangs, the FP350S is a racecar, not just a sporty and sleek vehicle designed to look like a racecar. This real-deal racecar finishes off its look with a Ford-performance carbon matrix splitter, APR-performance carbon fiber adjustable rear wing, and tow hooks on both the front and the rear.
This vehicle even gives you the option to customize the exterior with the optional FP350S graphics package-stick with simple racing stripes or go all-out with your own custom logos.
Interior
In order to keep drivers safe and secure throughout the race, the Ford Mustang FP350S is equipped with a number of FIA-compliant interior features. The Fédération Internationale de l'Automobile is the governing body for auto racing around the world, making them responsible for setting safety standards on the racetrack.
To comply with these standards, the FP350S sports a full FIA-compliant roll cage, Sparco FIA Racing seat, quick-release steering wheel, and Sabelt FIA racing harness. Additionally, the FP350S comes with a MoTeC Data Acquisition System.
This system uses a variety of sensors throughout your racecar to monitor and record a number of your vehicle's parameters. These readings allow you to keep an eye on how your vehicle is performing throughout a race, so you can analyze it later and gain insight on ways to better your driving capabilities on the track.
Experience the FP350S Today!
As you can see, the Ford Mustang FP350S is going to blow drivers away with its incredible power capabilities, sleek exterior design, and advanced interior features. Want to learn more about what this racecar is capable of? Come down to Fred Beans Ford of Doylestown today!