We can hardly believe it, but the New Year is already here. Do you have a resolution for 2017? 
If not, it's never too late to find one-and it doesn't have to be that hard. In fact, many people set the same resolution each year: get healthier. That's easier said than done, of course, but if you start early-sometime before January 1, that is-it may be that much easier to keep up a newfound healthy habit once the new year starts. 
There are many ways people can choose to live healthier lives, including eating better, strengthening their interpersonal relationships, and getting physically fit. When it comes to getting fit, it's often a lot easier to make progress when you have somewhere to go to hold yourself accountable. If you're looking to get fit in 2017, be sure to check out one of these gyms near Doylestown. 
CrossFit Sine Pari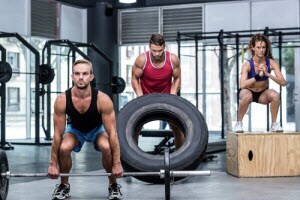 If you still don't know what CrossFit is, it's time to get with the program! Buck's Elite Fitness-CrossFit Sine Pari is an official affiliate of CrossFit Inc., a fitness institution dedicated to getting clients fit with cross-training. You'll practice most days of the week, learning lifts and gymnastics basics to get you in the best shape of your life. Don't worry-it may sound intimidating, but CrossFit is actually designed to help all individuals, regardless of experience or fitness level. 
B3 Personal Training
If you're a busy mom, or otherwise preoccupied with a schedule that doesn't make much room for actually going to a gym, it might be a good idea to go with your own in-home personal trainer. B3 Personal Training is an organization of highly qualified personal trainers, and you can practice in the privacy of your own home or in their private personal training facility. If working out on your own in front of dozens of others makes you cringe, then this may be the solution for you. 
Fusion Fitness Studio 
One of the best gyms near Doylestown, PA, is yet another personal training facility. Fusion Fitness Studio focuses on total body, movement-based exercise as the cornerstone of whole-body fitness. They believe that you don't need fancy, shiny machines to get physically fit. They'll design a specific, tailored exercise routine just for you because no one routine works for everybody. 
Doylestown Rock Gym 
If you're searching through gyms near Doylestown and also want to take on a new hobby this new year, why not try rock climbing at Doylestown Rock Gym? It's an effective way to build strength while also getting out of your comfort zone and up scaling walls and ceilings. Who knows, maybe it'll lead to a lifelong love of climbing, and you'll be planning a big rock climbing trip this time next year! 
Whichever gym you choose, we here at Fred Beans Ford in Doylestown, PA, wish you and your family all the best this new year.