Crossovers embody the fastest growing class of car in the Doylestown, Philadelphia, and Warminster areas. They offer improved space, much like an SUV would, yet are easy to drive and are more similar to a sedan. With all that popularity comes a very competitive market, so you'll have plenty of options to choose from if you're thinking about making an upgrade.
One of the most appealing options is the new 2018 Ford Edge, but not for the reasons you might think. While it does have plenty of interior space, along with some of the latest automotive technology, it can tow an impressive amount of cargo. Learn more about the Ford Edge towing capacity and find out if it's good enough for your standards.
Maximum Tow Rating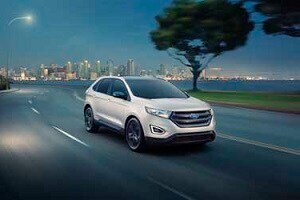 If you properly equip the 2018 Edge with the appropriate engine and the Class II Tow Package, you can push towing capacity all the way to 3,500 pounds. That's more than enough to haul a Jet Ski, dirt bikes, or small trailers. The cargo space was already generous enough with the Edge, but this tow package takes it a step further.
Even if you opt for the less than optimal level engine, you can still enjoy a 2,000-pound towing capacity. For the 3,500-pound maximum, however, you don't even have to opt for the highest-level engine. In fact, half of the available engines are more than enough to offer that kind of capability.
Engine Power
Three engines are available for the Edge, and all are remarkably powerful. Without that kind of strength, the Edge may not be qualified to do any towing at all. The Twin-Scroll 2.0L EcoBoost® engine offers a massive 245 horsepower with 275 lb-ft of torque. With this engine, you already have access to the 3,500-pound towing capacity when properly equipped.
The next level up is the 2.7L EcoBoost® V6 engine and its 315 horsepower and 350 lb-ft of torque. Despite having superior power, its layout limits towing capacity to 2,000 pounds. For maximum capability, however, the 3.5L V6 engine can get the job done with a 3,500-pound towing capacity and 280 horsepower with 250 lb-ft of torque.
Class II Towing Package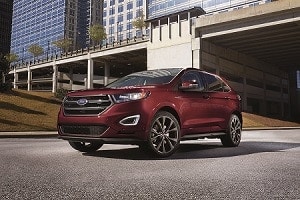 If you want to achieve the maximum towing capacity for your Edge, you'll have to opt for the Class II Towing Package. This add-on comes with several different features, allowing you to optimize your towing as much as you see fit. Just keep in mind that this package will bring your vehicle frontal area up to 30 square feet, compared to the base 20 square feet.
In this package, you'll get a 4-pin trailer wiring harness, along with a hitch receiver, allowing you to connect trailers with each. It also includes the trailer sway control feature, which is a handy piece of tech that allows you to maintain control of your trailer when on the road. This system constantly monitors your trailer and automatically adjusts torque and braking for a specific wheel to counteract any detected sway.
Towing Capacity in the 2018 Ford Edge
As demonstrated by the 2018 Ford Edge towing capacity, the capability of this crossover is one of its best features. Come down to see everything this vehicle can do at Fred Beans Ford of Doylestown. Schedule your test drive and find out if you can see yourself behind the wheel of the Edge in Doylestown, Philadelphia, and Warminster for years to come.