If you want a bit more extra space in your ride to take through the streets of Philadelphia, Doylestown, and Warminster, you should go with an SUV. These incredible vehicles are getting more and more popular every year leading the newest models to feature more features than ever before.
One of the most popular SUVs on the market today is the 2018 Ford Escape. While it has plenty of interior space that's sure to satisfy all kinds of drivers, there's one impressive feature it offers that's too often overlooked. For an SUV, the Escape can tow quite a bit of weight. Learn more about the 2018 Ford Escape towing capacity and discover whether or not it's good enough for your needs.
Maximum Tow Rating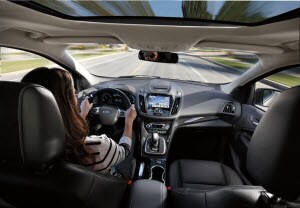 The Escape was built from the ground up to be remarkably tough not only for an SUV but for any kind of vehicle. Building vehicles tough is kind of what sets Ford apart. That's why you can expect your Ford Escape to handle weights of up to 3,500 pounds when towing if it's properly equipped.
If you want to achieve the maximum 3,500-pound towing capacity, you'll have to opt for the Class II Trailer Tow Package and equip your Escape with the 2.0L EcoBoost® engine. Even without that much power, however, the 1.5L EcoBoost® engine can still offer an impressive 2,000-pound towing capacity, which is still more than you might expect from an SUV of this size.
Towing Technology
Getting the available towing package does more than simply increase your maximum towing capacity. You'll be better equipped for driving thanks to the included paddle shifters and transmission oil cooler. Trailer Sway Control is also included, which is constantly monitoring your trailer and adjusts brakes and reduces engine torque when necessary to make sure you maintain proper control of your haul.
The technological features found in the 2018 Escape not only help with your towing but driving in general. The Curve Control will automatically apply necessary torque and braking to the wheels that need it to ensure you take turns with precision. SUVs may be top-heavy, but the AdvanceTrac® with Roll Stability Control™ system works hard to keep all four wheels on the ground at all times.
Check out the Ford Escape Review!
Engine Power
Towing wouldn't be possible without an impressive engine, and the 2018 Ford Escape features three incredible options. The standard engine is a 2.5L I-4 engine that offers 165 horsepower and comes complete with intake variable cam timing. While this is the weakest engine, it still offers a respectable 1,500-pound towing capacity.
The next available engine is the 179-horsepower 1.5L EcoBoost® engine that strives to balance power with efficiency. It can tow up to 2,000 pounds with the proper equipment, but the incredibly powerful 245-horsepower 2.0L EcoBoost® with Twin-Scroll technology is required to reach that peak 3,500-pound towing capacity.
Towing Capacity in the Ford Escape
While the 2018 Ford Escape towing capacity is certainly impressive, it's just a small portion of everything this SUV can offer. If you live in the Doylestown, Philadelphia, and Warminster areas, come down to Fred Beans Ford of Doylestown to try it out for yourself. Our friendly team is happy to show off everything this SUV can do. Schedule your test drive today!