If you're looking for the best light duty pickup truck on the market today, you can't go wrong with Ford and Ram. These two companies are the definition of everything a pickup should be, and drivers in Philadelphia, Doylestown and Warminster know it. Each offers an outstanding combination of functionality, reliability, performance and comfort. But no two trucks are created equal, and somewhere one has to come out ahead of the other.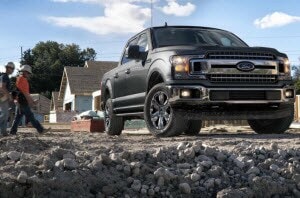 So, which one is the better pickup? Explore a direct comparison of the Ford F-150 and the Ram 1500, learn what each brings new to the table, and determine which is the better pickup for your needs.
2018 Ford F-150 vs. Ram 1500 Updates
The 2018 Ford F-150 brings a pretty wide range of changes this year. Among these refreshes are a new standard engine, a 3.3-liter V6 which delivers greater power and fuel economy. In addition, the turbocharged 2.7L V6 and 5.0L V8 options have been revised to deliver more power. A 10-speed automatic is paired to these engine options, and automatic stop-start is now a standard feature. Finally, you get improved frontal crash warning and mitigation systems, and a revised styling at the front and back.
The Ram 1500, on the other hand, doesn't quite have the same level of refreshes and upgrades this year. It drops the Outdoorsman trim level and shuffles some of its features to other trims, and it drops the six-speed transmission option, leaving you with only one available transmission, an 8-speed automatic. While this is statistically the better option, some drivers may not like the elimination of options.
Ford F-150 Performance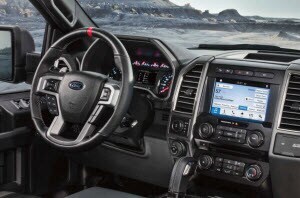 The Ford F-150 this year gives you a powerful standard V6 engine as well as very solid fuel economy for a pickup in its class. You'll get an EPA-estimated 20 mpg on city streets, and 25 mpg on the highway. It puts out 290 horsepower and 265 lb-ft of torque, paired to a 6-speed automatic transmission. Upgraded engines include the turbocharged 2.7-liter V6 which gives you 325 horsepower and 400 lb-ft, and a 5.0-liter V8 which delivers 395 horsepower and 470 lb-ft.
Also available is a turbocharged 3.5-liter V6 which comes in two different performance grades: 375 hp with 470 lb-ft, and 450 hp with 510 lb-ft. All engines above the standard V6 come paired to a 10-speed automatic transmission.
Ram 1500 Performance
The standard 3.6-liter V6 engine on the 2017 Ram 1500 puts out 305 horsepower and 269 lb-ft of torque paired to an 8-speed transmission. It gives you 17 mpg in the city and 25 mpg on the highway, unless you opt for 4WD, which lowers your efficiency to 16 city and 23 highway.
Additional engine choices include a 5.7-liter V8 which puts out 395 hp and 410 lb-ft of torque, or an EcoDiesel turbocharged 3.0-liter V6 which gives you 240 hp and 420 lb-ft of torque. While the base V6 engine has more power than the base F-150 engine, it gets vastly reduced EPA-estimated fuel economy, and the F-150's upper engines are more powerful overall.
Ford F-150 at Fred Beans Ford of Doylestown
The 2018 Ford F-150 is the better of the two pickup trucks in just about every way that counts. If you're in the Warminster, Philadelphia or Doylestown areas, stop into Fred Beans Ford of Doylestown to test drive one for yourself today!
More Ford F-150 Comparisons: