If you're considering buying a heavy-duty pickup truck, the 2018 Ford F-250 delivers. This capable truck has incredible towing ability, along with a variety of safety and utility features that make the most of its impressive power.
Drivers in Doylestown, Philadelphia, and Warminster can discover more about the Ford F-250 towing capacity and features with this comprehensive review from Fred Beans Ford of Doylestown.
Powertrains and Towing Capacity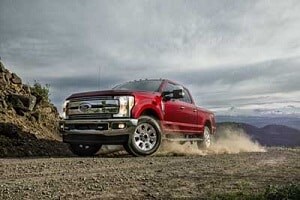 The F-250 comes with two powertrains that give it its rugged capability:
6.2L V8 engine with 385 horsepower and 430 lb-ft of torque
6.7L turbodiesel V8 engine with 440 horsepower and 925 lb-ft of torque
Rear-wheel drive is standard, but 4-wheel drive is available on all models. With the turbodiesel engine, the Ford F-250 can tow up to 32,000 pounds, which is more than enough for anything you may need to pull. So much, in fact, that maxing out its towing capacity requires a commercial driver's license.
Towing Safety
With a 32,000-pound towing capacity, safety is an important consideration. Fortunately, the 2018 Ford F-250 can be outfitted with modern advanced safety features that protect the truck on long hauls, as well as extend protection to the attached trailer.
Blind-Spot Monitors are a helpful feature that covers the areas just out of your line of sight, which provides additional peace of mind with a long trailer in tow. Forward-Collision Warning and Lane-Departure Warning are also available, which modulate the brakes to avoid a frontal collision and alert you to lane drift, common concerns when pulling a heavy load on the highway or in congested traffic. The F-250 can be equipped with Adaptive Cruise Control as well, which reduces fatigue on long drives.
Towing Features
The F-250 comes in many trim levels and includes a number of valuable features. Comfort and convenience features like an infotainment system, leather upholstery, and heated seating are available, but the real treat is the towing features.
An adaptive ratio steering setup is available, which speeds up or slows down the power-steering assist in accordance with vehicle speed. This makes it easier to maneuver at lower speeds and reduces swaying on long trips at high speeds, which helps when pulling a trailer long distance.
There's also a surround-view camera system with seven cameras to give you a full view around the truck. This feature is an additional safety measure while towing but can help tremendously when backing the trailer into a gooseneck to connect. It also helps with tight parking spots and turns.
Experience the F-250 Towing Capacity
There's a lot to love about the 2018 Ford F-250 pickup truck, but its towing capacity and towing features are standout. The F-250 not only dominates the class in capability, but it ensures that you'll experience easier, safer, and more convenient towing than ever before.
Drivers in Philadelphia, Doylestown, and Warminster can experience the 2018 Ford F-250 towing capacity for themselves by taking a test drive at Fred Beans Ford of Doylestown. Call or stop by our dealership today to learn more about the Ford F-250 features and capability!