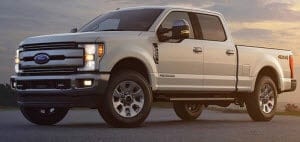 Responsible truck owners are extremely focused on keeping their vehicles in the best shape possible.
And, if there's anything that we've learned about the truck owners near Doylestown, Philadelphia, and Warminster, it's that they're extremely responsible. That's why our experts here at Fred Beans Ford of Doylestown created this 2017 Ford F-250 dashboard symbols guide. We want to give you as many tools as possible to help keep your truck on the road for as long as possible. Contact us if you have questions!
The Importance of Ford F-250 Dashboard Icons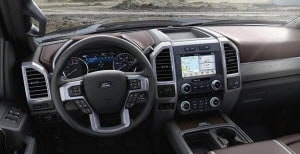 Your F-250's dashboard symbols are quite important because they can let you know when there's an issue with your truck before it's too late. They're essentially little warning indicators that come on to alert you that it's time to take your Ford in for a service appointment. As such, don't ignore them, okay?
10 Key Ford F-250 Dashboard Symbols, Icons, and Warnings
Anti-Lock Braking System: This warning light is simply the letters ABS, inside a circle, inside a set of parentheses. If it comes on while you're driving, you have an issue with your Anti-Lock Braking System. Stop and schedule, okay?
Battery Icon: Your F-250 needs a properly-functioning battery in order to start. If the Battery Icon lights up (which literally looks like a battery, with positive and negative symbols), you should have a professional service it.
Brake System: An exclamation point within a circle, within parentheses, means that your brakes aren't working like they should. Your brakes are some of the most important safety features that you have, so fix them.
Engine Oil: A pictogram of an oil lamp with a drop of liquid dripping from the spout means that your engine oil levels are low. Your F-250 needs it to keep friction from building up to intolerable levels. We can change your oil!
Fasten Safety Belt Warning: There are seatbelt laws in all 50 states-PA is no different. Buckle up, or your 2017 Ford F-250 will remind you to.
Front Airbag: Along with your brakes, your front airbags are the other key safety features that could save your life. Please, if the front airbag isn't properly engaged, don't drive. Stop the vehicle and call a service center.
Low Fuel Level Icon: This one is quite straightforward. It looks like a gas pump, and all you need to do is stop at one and refill your tank. Okay?
Low Tire Pressure Warning: These days, all automobiles in the U.S. are required to come equipped with a Tire Pressure Warning System. This alerts you with an exclamation point within a tire-meaning, get your tires filled right now!
Service Engine Soon Indicator: Ah...the famed 'check engine light.' It looks like an engine, and it means that there's a problem with your engine. But what exactly is the problem? Our expert Ford mechanics can let you know.
Stability Control Off: If a picture of a swerving car with the word OFF below it lights up, you should be careful if you're driving on top of uneven terrain.
Schedule a Service Appointment at Fred Beans Ford of Doylestown!
If you notice any of these dashboard lights-or, if you notice any that weren't covered in this article-the expert Ford technicians at our Fred Beans Ford of Doylestown Service Center can take care of whatever's going on with your F-250! They'll do their job courteously, efficiently, and effectively-you can trust us!
There are three ways to set up your appointment today: Call us on the phone, come into the service center in person, or fill out a simple form on our site. Don't fear-the dashboard light guys are here!